Fixplus
Fixplus is the new and innovative strap for securing, bundling and fastening objects. Fixplus can be easily handled, even with one hand.
                                     
Fixplus features:
Lightweight
Tear resistant up to 90kg
UV resistant TPU
Cold resitant
Resistant to salt water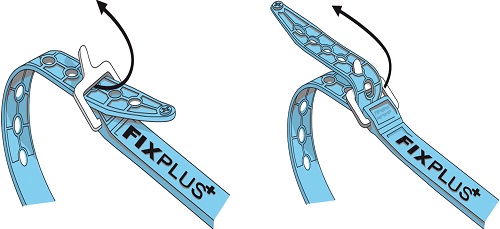 VIDEO

Fixplus can be used for the fastening of all kinds of gear. For example:

Sport and leisure; Hiking, Camping, Travelling, Skating, Mountain climbing, Biking, Athletics, Field sports, Shooting, Hunting, Fishing and Skiing

Maintenance; Painting, Scaffolding, Stand buidling, Electronic and cable works, Buidling, Wood work and Transport

House and garden; Hoses, High water pressure, Indoor and outdoor construction works,  Roof works, Swiming pools and tubes, Storing and much much more.
Artikel
1
tot
5
(van de
5
artikelen).
Resultaat:
1
Artikel
1
tot
5
(van de
5
artikelen).
Resultaat:
1